Overview
The Quantum™ architecture is so flexible that we can efficiently optimize it to support products for a wide range of market segments including:
Ultra-low-power applications for IoT and mobile applications requiring fewer than 15K LEs
General-purpose applications from 4K to 150K LEs, covering a wide range of mainstream markets (industrial, medical, automotive, broadcast, and video) and emerging segments (drones, autonomous car, edge computing, and various intelligent systems)
Advanced applications from 150K LEs to 500K LEs and beyond, targeting infrastructure, data centers, and advanced silicon processes
Quantum-enabled products have a cost and power structure that enables volume production in ways that traditional FPGAs cannot match.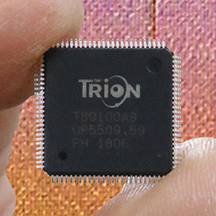 Programmable Product Platforms
We have been developing Quantum-based silicon products, and expect the first product samples to be available by December 2017, and multiple production-ready devices in H2 2018. The first product platform will offer programmable devices ranging from 4K to 150K LEs, serving custom logic, mobile, IoT and edge computing. For more information, please contact sales@efinixinc.com.
Joint-Development Platforms
Efinix has created joint development opportunities for customers who have applications or market needs that cannot be satisfied by standard FPGAs. We offer flexible business models that can include technology licensing, silicon design, and turn-key services. Please contact sales@efinixinc.com to discuss your product requirements.
Efinity Software
Efinix has developed the Efinity™ integrated development environment (IDE) software. Its customer design environment supports all Efinix programmable products for design entry (RTL), synthesis, place and route (P&R), timing analysis and bitstream generation. Please contact sales@efinixinc.com to test drive our Efinity software.