The Efinix® Efinity® IDE provides a complete RTL-to-bitstream flow. With a simple, easy to use GUI interface and command-line scripting support, the Efinity software provides the tools you need to build designs for Trion® FPGAs.
Features:
Project management to keep your design files organized

Support for Verilog HDL, SystemVerilog, and VHDL languages
Graphical views of design hierarchy, result files, and reports

Easy to use dashboard to run through the flow (synthesis, placement, routing, bitstream generation) automatically or manually
Interface Designer to constrain logic and assign pins to blocks in the device periphery
Floorplan Editor to browse through your design's logic and routing placement
Timing Browser and static timing analysis to measure your design's performance

Tcl Command Console to perform timing analysis

Supports simulation flows using the ModelSim, NCSim, or free iVerilog simulators
Integrated hardware Debugger with Logic Analyzer and Virtual I/O debug cores
GUI and command-line Programmer to configure your Trion FPGA or Quantum™ core
Documentation

New in v2020.2
IP Manager GUI to customize and organize IP cores in your project
IP cores (including RISC-V) are delivered with the Efinity software
Support for C4L and I4L speed grade FPGAs
Support for T20 WLCSP80 FPGA
Support for VHDL libraries
New synthesis attributes
Programmer support for Macronix MX25V flash devices
PLL Clock Calculator supports simple PLL
Design export and import using an .isf supports PLLs and oscillator
Python API supports PLL and oscillator blocks
Dashboard and Project/Netlist/Result panes are resizable
Efinity Software Example Screen Shots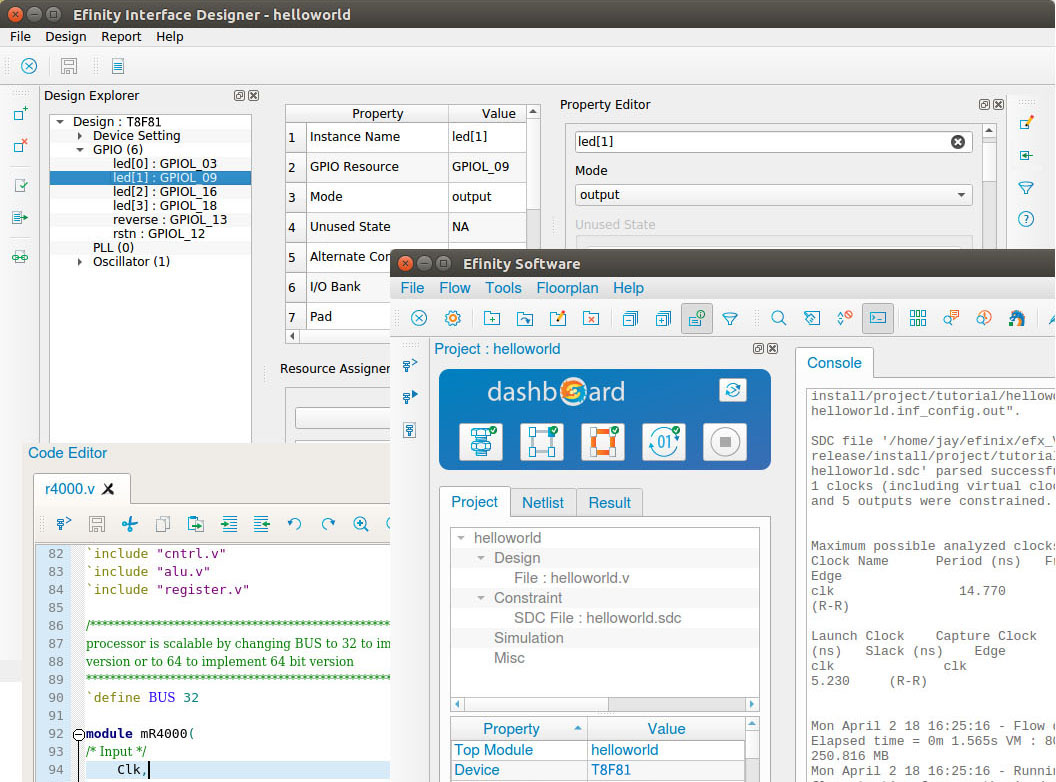 Video Gallery
The following videos walk you through how to use the Efinity Interface Designer.
Interface Designer Overview
Efinity v2019.3
How to Create GPIO Blocks
Efinity v2019.3
How to Create LVDS Blocks
Efinity v2019.3
How to Create Simple PLL Blocks
Efinity v2019.3
How to Create Advanced PLL Blocks
Efinity v2019.3
How to Create MIPI Blocks
Efinity v2019.3
How to Create DDR DRAM Blocks
Efinity v2019.3